Before & After
Relief & Support
Parents of Milo reported comfort was regained in days, and complete correction was had within 2 weeks. See below for more.
Immunity & Gut Balance
Balance & Maintenance
Histamine responses controlled with our Essential Immunity + Allergy Support Superfood in six weeks. Read more below.
All-Natural Superfood Support
Homeostasis Inside & Out
Skin presentation eliminated in 3 weeks with Essential Gut + Digestion and Immunity + Allergy Support superfoods.
Essential, Clean Ingredients
Let customers speak for us
Real Relief for
Painful Hot Spots
Milo's Pawrents were at a loss, having tried everything for their pup's extreme skin presentations. Mike and Grace reported drastic improvement in just a few days, and complete correction within 2 weeks, after using Woof Creek's Essential Immunity + Allergy Support once daily in Milo's food. These conscientious guardians are continuing their clean-feeding journey by incorporating even more canine-appropriate ingredients beyond just our superfoods, and keeping their Milo at his optimum health.
hot spots conquered
Essential Immunity + Allergy Support
Tikka, the Vizsla (Hungarian Red-boned Coonhound), had hairless, itchy hotspots extending from belly to chest until her pawrents added Woof Creek's Essential Immunity + Allergy and Gut + Digestion clean superfood toppers to her food once a day.
Essential Immunity + Allergy Support
No More Tear Stains
"In only 6 weeks, my boy, Bear, has no more tear stains... I am absolutely stunned! It was allergies, and now I feel better that I am addressing possible internal discomfort too."
-Murlene J., Tampa FL
no more cone or costly meds
"our pittie pup stopped flaking & scratching!"
Our rescue Luna came to us with serous otitis and dermatitis caused by an severe ear infection which created "hot spots" all over her body. These were spots that would get itchy and dry, then made raw from scratching. The insides of her ears were just open sores that would not heal. This caused them to have a strong odor. This condition even affected her gut health. Needless to say she did not sleep a lot and neither did anyone else. We immediately began to wean her off of her old food. Then we got her medicine to treat her ear infection but the dermatitis persisted. We bathed and conditioned Luna every 2 days and made homemade Lemongrass Rinse (anti-microbial). The smell became manageable but Luna would still flake (dandruff) and her "hot spots" were still essentially bald. Then we got her a product from @woofcreekwellness called Essential Allergy + Immunity Meal Topper. This jump-started her healing. We noticed that she stopped flaking, scratching, and her hair was growing within the 1st week. Also her gut health improved too. She no longer had "accidents" in the house or loose stool. Sweet Luna's quality of life has greatly improved because of this supplement which is a blend of 4 kinds of mushroom (Reishi, Turkey Tail, Maitake, Shiitake), Sea Kelp, and Green Mussel Powder. We are all sleeping through the night and Luna can focus on being a little sister to HoneyBella. Thank you so much, Scot. We appreciate you and your products so very much.
🙏 Farmer B & Flo, Dade City, Florida
stress free
living his best life
My boy Cody has been using their Essential Stress+Anxiety Support for almost a year, along with Woof Creek's Omega-3 Salmon Oil w/Hemp, and their clean treats. This picture says it all.
-Sylvia G.
Woof Creek's Essential Hip + Joint Care
★★★★★

I'm a vet tech for an orthopedic vet's office and have worked at multiple rescues/shelters. I have an 11 year old chocolate lab and he's been doing really well on the hip + joint powder topper! I have stairs to my house and he was flying up the stairs this morning! 
★★★★★

As a dog mom to now 4 German Shepards, and a veterinary nurse, I am very choosy about everything and anything I give my fur kiddos. From Woof Creek's naturally shed moose antlers, to novel protein treats, omega-3 oils and joint care toppers (as canine osteoarthritis is real in my house, from my newer puppy to my senior boy), I know I can trust the holistic quality of their products.
★★★★★

We have been using the Essential Hip + Joint Support along with the Immunity + Allergy powder, and Salmon and Anchovy oils since November 2021 and Huck's energy levels have returned and he has not had an allergy outbreak requiring steroids or antibiotics. Huck's skin and mobility are 100% better. Thanks for these great products!
★★★★★

This stuff is amazing! My rescue Pitti (@8 y.o.) was having hip issues from an old pre-rescue injury, then she tore her CCL 3yrs. ago. We opted against surgical repair and she has been on an anti inflammatory long term but *still has stiffness. We started Woof Creek's Essential Hip+ Joint Support Powdered Meal Topper a month ago and I can tell a HUGE difference! She is getting around better, less limping and just about no snaps, crackles, or pops when she gets up or stretches now. You can tell she just feels better in general. Thanks!
★★★★★

I have been using Woof Creek Essential Hip + Joint Care for my 10 year old girl, Bailey Sue. She was limping every time she would get up after laying down. Since I have been using the @woofcreekdogwellness Joint Care, my girl has a pep in her step! She enjoys long walks and the limping has been less frequent. Thank you, you have my business!-Very Happy Dog Mama
He's Back!
"nothing short of a miracle"
"Samson is our 16 y.o. mini dachshund. In the last several months we have watched him slowly decline in activity and overall happiness. He was experiencing discomfort as one would expect with a senior dog. He suffers from degenerative joint and spinal disk disease. We were actively looking for anything to help him live life as normally and pain free as possible. With varying degrees of success, we were simply not getting the results we wanted, of course, nothing is good enough for our Samson anyway. Then by chance, we found Woof Creek. The Essential Joint Care product has been nothing short of a miracle for Samson. I am actually amazed at the difference in him. He has reclaimed the backyard, barks to the world as if to say, "I'm back" and is much more interactive with the family. Thank you is all we can say. Squirrels beware!!"
- Stacey and Jim Chattin, Lakeland FL
"Thank you for all you do... Your quality product has become a staple to my Jax's diet."
Just wanted to say thank you so very much for providing a quality product that has become a staple to Jax's diet. We have been through many different supplements etc. and literally these [Essential Meal Toppers] are the very first that I can just sprinkle on his food and he eats with no problem. Usually I have to mix it in real good and hide it as much as possible, not with these. I have already noticed a difference in his coat and I have now transitioned my daughter's Golden Retriever to raw and will be getting him on the Stress and Immunity supplements as soon as they arrive.
Thanks again for all you do... I am glad you started your company!

All the best wishes,
Melody and Jax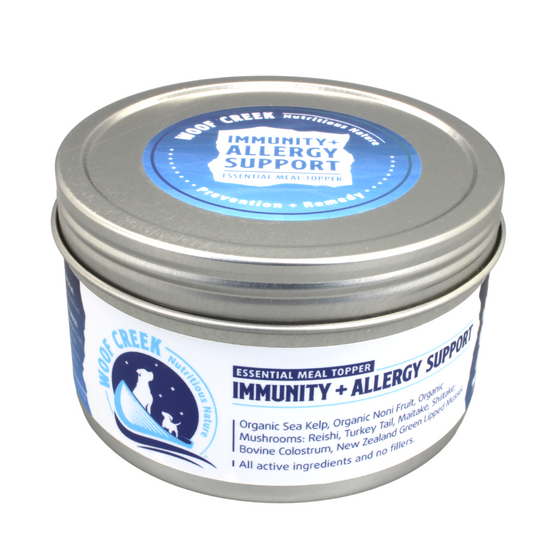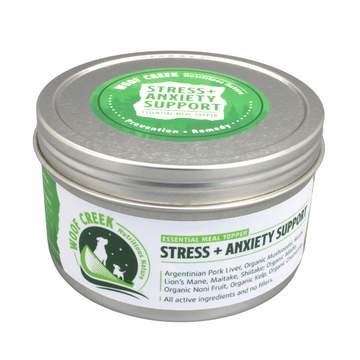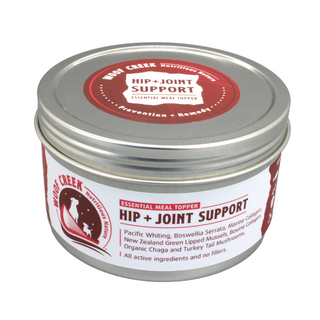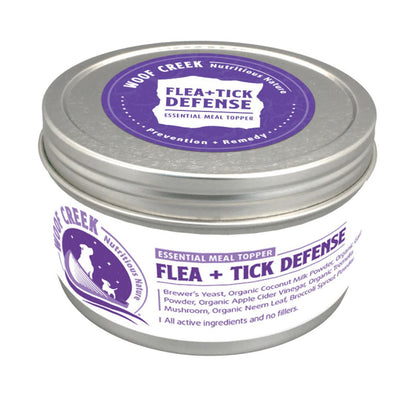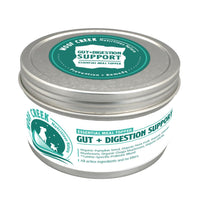 Replaced my fur baby's Xanax, Gabapentin, and Tramadol for her anxiety!
"Woof Creek's Essential Stress + Anxiety is an amazing product! Been using it for about a month with my little 10lb rat terrier who is afraid of everything (sounds, thunder, people other animals). July 4 and NYE have always been horrible because at 1st sound she shakes, paces, pants, and tries to dig holes to hide in. After just a month on this product she managed just fine. She heard them but was nowhere near as anxious and distressed. I am utterly amazed. This baby has been on Xanax, Gabapentin, Tramadol for her anxiety and nothing helped her the way this product did. Amazing!" - Holly B.
Prevention & Remedy
For Fur Baby Frenchies
Our frenchies have been on salmon oil, immunity, and joint care for almost 2 years. We were looking for anything to boost their health with their breed. They are healthy and love the meal toppers. Thank you Woof Creek; we love your products. - Mike S., Valrico, FL
just, wow!
she devours her food now!
Emma loves her fish oil. She usually grazes and waits for us to eat in order to finish her food. With the oil she devours it in one sitting, and... This dog never eats her food at all when we go camping. She always waits for us to give her something else. Just, Wow!
Thank you so much!
Kasey and Emma from Safety Harbor, Florida
I have one happy pup!
"I have one happy pup who is excited every time she sees the bag of deliciousness! You have a customer for life!"
Kerry & Yeti - Lakeville, MN
More Pawsitive Bark-outs!
Favorite Freeze Dried, Raw Bites!
"Our Rigby loves these treats so much that he ran off with the whole bag!"
Joan and Steve - Wimauma, FL
Buy Now
Clean, Chewy Salmon Squares!
"Aria thinks the salmon treats are delicious, and I know they're so good for her!"
Avery - Brandon, FL
Buy Now
Healthy, High-Value Training Treats!
"Our rescue dog Olive loves her treats and we LOVE the effort that went into such a clean product. WooF WooF to these tasty treats!! Thanks Chef Scot!"
Patrick - Lakeland, FL
Buy Now
Omega-3 Salmon Squares for health & Training
"Rocky loves the healthy training treats! We are teaching him to sit and shake with them!"
★★★★★

Angel loves her new favorite dog treats: duck bites with rabbit & blueberry. They're the perfect size and Yum-O-delcious!
★★★★★

Minx loves the omega-3 salmon squares!
★★★★★

These treats are obviously made by a dog owner that cares about what they feed their own furry friend."
★★★★★

I always take the duck treats on walks with my spoodle pup. They are the only! thing that keeps her attention when squirrels taunt her!  Puppy training is possible with these freeze-dried bits!"