Holistic Prevention + Remedy Support for more tail wagging years®
Canine Wellness, Naturally
For More Tail Wagging Years®
Woof Creek creates clean, wholly bioavailable, essential wellness superfood blends as meal toppers, snacks, training treats, and healing balms, all designed to naturally support your dog's daily wellness and healthspan.
Our products are formulated and crafted by Advanced Canine Nutrition Specialist, Chef Scot Hill. Chef Hill sources the highest quality, organic ingredients scientifically tested to ensure science-based, canine-appropriate nutrition (and irresistibility!) With crucial superfoods, functional mushrooms, and pivotal novel proteins, Chef's approach is completely natural, with the single purpose of helping you regain and/or maintain your fur baby's health and wellness. 
Dr. Judy Morgan DVM, CVA, CVCP, CVFT meets with (and now carries!) Woof Creek Wellness
Let customers speak for us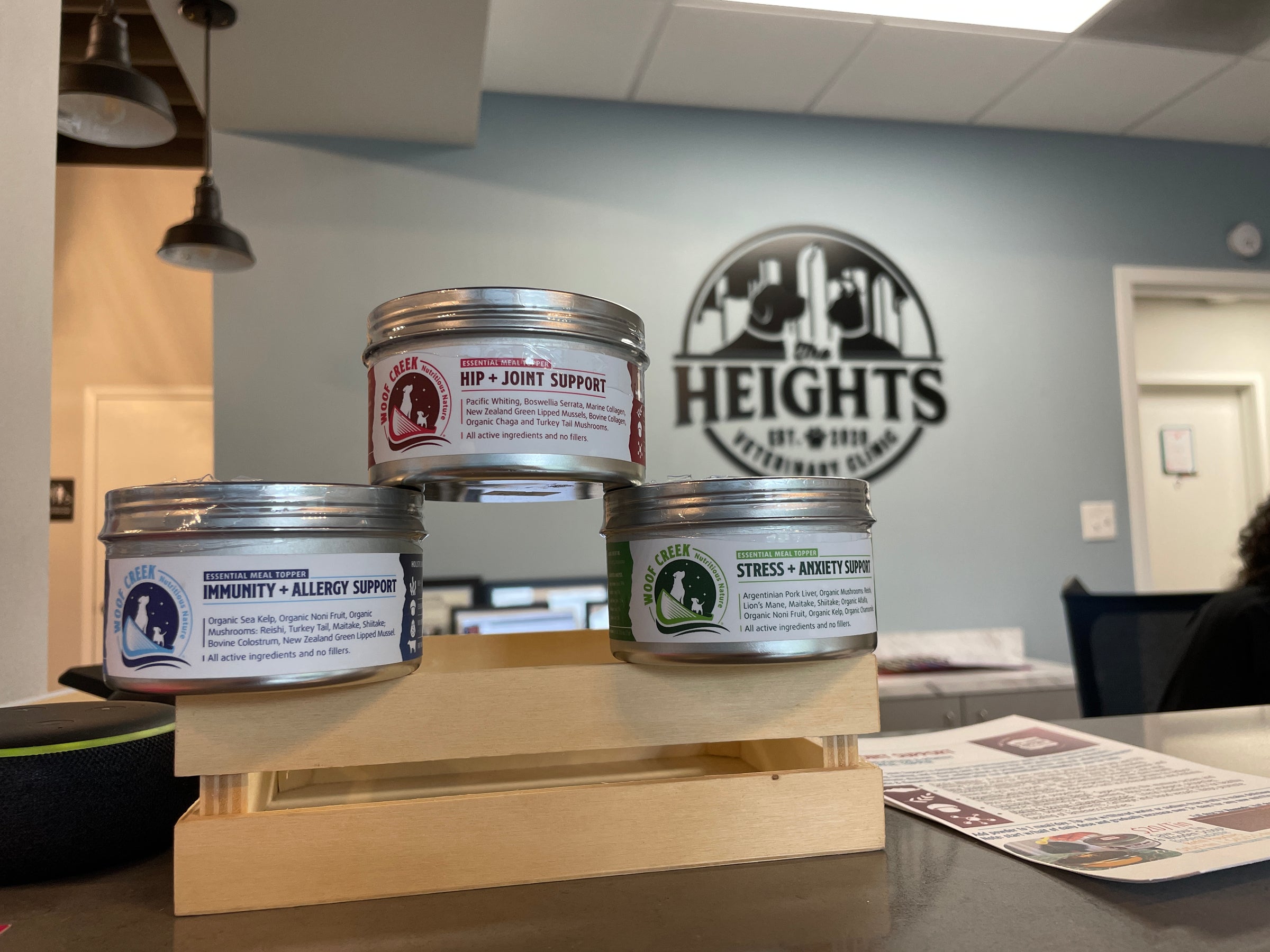 holistic nutrition
Integrative Veterinarian Now Offers Woof Creek
Our pivotal, whole food prevention + remedy powdered meal toppers are now offered at The Heights Veterinarian Clinic in Tampa Bay, Florida.
Shop Now

premium, functional
Natural Ingredients
Novel, clean proteins like duck & rabbit organs; mineral-rich wild caught salmon, pork, bison. Nutrient-dense superfoods like noni, kelp & alfalfa. Medicinal mushrooms like chaga & turkey tail. Prevention, remedy, wellness.
Read About All Benefits
Family owned & operated
Devoted to all our Fur Babies
Advanced Canine Nutrition Specialist, Chef Scot Hill, and wife Lisa explain Woof Creek Dog Wellness mission and pivotal products on Tampa Bay Chanel 10 Great Day Live!
As seen on
"Made in Tampa Bay"
Woof Creek Dog Wellness Chief Tasting Officer Lily Lou and her Dog Dad, Advanced Canine Nutrition Specialist, Chef Scot Hill, give Fox13 News "Made in Tampa Bay" an inside look into Woof Creek's Production Kitchen and HQ!